I am all caught up! As caught up as I'm going to be before I leave for AZ for Christmas! Mylin and I are heading to AZ tomorrow because my little brother gets home from his mission on Monday! We are so excited. Tim will be heading down sometime next week. Anyways, I have some pictures of Christmas crafts that Mylin and I have been doing, but that will be for another time. These pictures are all out of order, but I don't even care because I'm done! (And now I actually have Christmas pictures to go with my Christmas background. It was driving me crazy to have the Fall ones on.)
This was after Mylin put the star on the tree. She LOVES Christmas. The first thing we have to do every morning is turn on the Christmas tree lights. And anytime she sees anything Christmasy, she will say "HO, HO, HO!!!" Usually really loudly.
Ok--so we went and saw Santa at the mall. Mylin was not a fan. But, it was set up so cute in the mall. It was set up like Santa's village. There were little trains and snow covered mountains and little elves building toys. It was really one of the cutest set-ups I have ever seen. Here was Santa's Workshop. You could buy wood toys or ornaments to decorate and Mylin picked out the star.
Mylin waiting in line...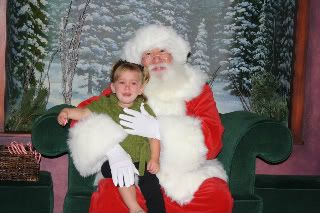 This is a random one...It was supposed to go with the last post about Thanksgiving, but I was too lazy to go back and edit that one, so I just threw it on here. She was helping me make a pie for Thanksgiving and I just love her face in this one!
I hope you all have a Merry Christmas!