While we were in Arizona, it snowed! All of the kids were pretty excited to go out and play in it. At first, Mylin was really concerned about it. She just kept looking around and saying, "Uh oh!" She had no clue what was going on. Eventually, she figured out that it was okay and she had a lot of fun playing in it. For some reason, I took more pictures of everyone playing in the snow than everything else on our entire trip--combined! So be prepared for a ton of snow pictures. These aren't even half of the ones I took!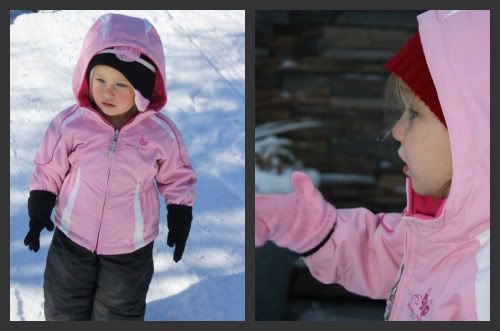 I couldn't get a smile out of Mylin. It seriously took her forever to even play in the snow! Koy and Mia were loving it though! I love Koy's hat.

On Christmas Eve, we went sledding. We built a fire and roasted hot dogs and made hot chocolate. I think one of my very favorite pictures of this trip is the one with Mylin and my grandpa. My grandpa is so cute with her and was always taking her for walks and holding her. Mylin is crazy about him too! (Side note...we were in church on Sunday and saw a picture of Elder Perry and Mylin started screaming, "PAPA!! PAPA!!" Not that he looks anything like him, but still!)
Here are just some more pictures I liked of sledding. I obviously didn't sled, but I did fall down once. It was pretty icy and I just fell right down, but luckily I just landed on my knees.