Kale had jaundice pretty bad after he got home, so the doctor sent over the jaundice biliruben light machine thing. He had to be on the lights for four days "all day except when feeding". (And when I felt like he just needed some time off to be snuggled!) He had to go get blood work done three days in a row. It is the saddest thing when they have to take blood from their arms. We had to do that with Mylin too, and it is not fun. He also had to get blood work done to check his Carnitine levels (to check for that weird deficiency I have and Mylin had). I also had to get a urine sample from him to get tested. Which was...an experience! Thankfully Tim's mom was here to help me with that! Anyways...Kale's first few days home were pretty crazy, but luckily he had his big sister to take care of him!
(The blue glowing underneath him is from the lights)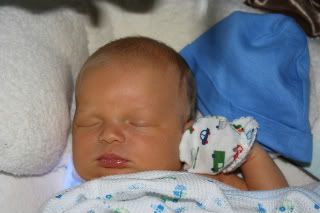 I was in the other room and came back and Mylin had put her blanket on him (she does not like to share her blanket!) and had pushed a chair next to him and was pushing him in the swing. It was seriously the cutest thing ever!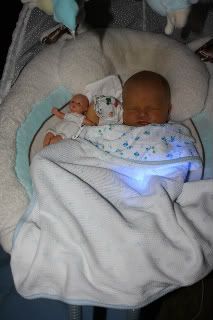 Seriously every time I turned around, there was another toy in with him and the lights! We put Kale in the swing with the lights because he seemed to like it there the best. He was not a fan of the lights at first.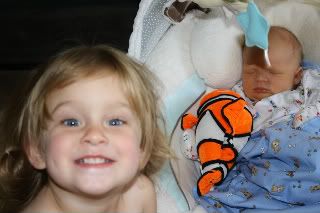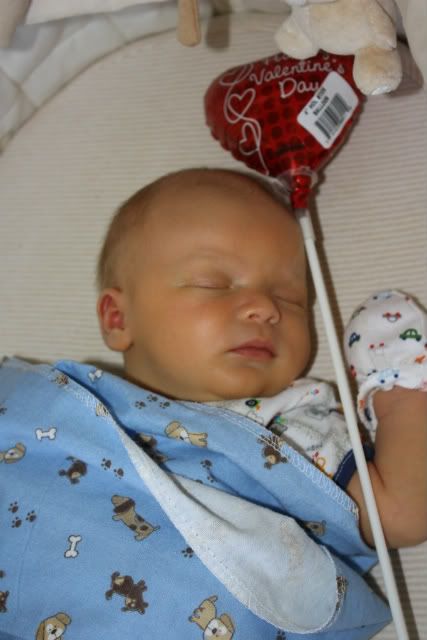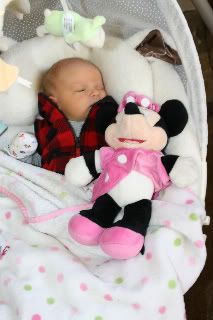 Even when he's napping, Mylin doesn't want him to be alone! I guess sleeping with dolls is what happens when you have a big sister!